Factory Expo Home Centers specializes in all aspects of the manufactured home industry, delivering beautiful homes at Factory Direct pricing.
About This Location
This Factory Expo Home Centers location is located in Ocala, Florida and we deliver our finely crafted homes to Florida, Alabama, Georgia. Contact a housing consultant at 1-800-554-4813 for more information about our homes.
About SkylineHomes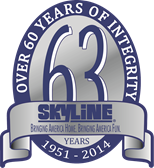 Committed to excellence since 1951, Skyline produces a wide variety of factory-built homes with price ranges to fit most budgets. The combination of Skyline's famous 'Quality Assurance Program', 'Full 12 Month Warranty Program' and dedicated customer service department lend to the brand's acclaimed reputation for building quality homes.